Benjamin Franklin famously said, "if you want something done, ask a busy person." And I cannot think of a more relevant statement for our team these days.  The team has been consistently busy over the last few months, but somehow along the way, our ResFrac Endurance team hasn't stopped racing and training, setting and achieving goals. We have some race reports to share about the last few months of achievements. Join us in cheering for our ResFrac crew!
Egor Dontsov, Ironman 70.3 Texas
Galveston, Texas
April 11, 2021
Race details: triathlon, swim 1.2 miles, bike 56 miles, run 13.1 miles
"This is the race that was supposed to be in April 2020. Both me and my wife Evgeniya were registered. The first time, it was canceled three weeks before the race, i.e. around mid-March 2020. The race was postponed to November 22, 2020. We were training for this race and already were tapering when 4 days (yes 4 days!) before the race we got an email saying that it is canceled. That's when we stopped training and started our ski season. The race was postponed until April 11, 2021.

"After the race was postponed from November, the bike was collecting dust in a garage for quite a while. The first bike ride after that was on March 9th. And this was actually the day we decided to increase volumes and start actually preparing for the race. Then, next weekend we had a wonderful snowfall of 1.5 ft in Denver! This means no biking for another week. After that, I biked more or less consistently twice a week. In total, there were 7 bike rides before the race. Not perfect, but given the snow and the fact that I was still skiing during weekends, it was decent. With regard to running and swimming, I was doing these consistently during the whole winter. Both my wife Evgeniya and I swam about 2 to 3 times a week and ran 2 to 3 times a week as well. Tried to do a bit more the month before the race, but with limited success. During the last tapering week, we were patiently waiting for yet another cancellation email. But it did not happen, so we packed our stuff and were on the way to Texas!

"Given the history of race cancellation at the last moment, we did not book anything until the last minute, and also decided to drive. So, bikes on the roof, wheels in the trunk, bags on the back seat, cat on the back seat as well, daughter in the child seat, ready, set, go! We left on Friday, April 9th and drove to a small town right after Fort Worth, TX. The next day, we headed to Galveston, TX, to check-in for the race. After moving from Houston, I already forgot about these oversized highways full of cars, the frontage roads full of cars, and the car dealerships on both sides of the highway. Just cars and nothing else! But the torturous drive was rewarded with a nice beach and atmosphere in Galveston.

"On race day, we woke up at 4 a.m., had a quick sandwich for breakfast, and were on the way to Galveston again. We stayed in Houston with our friends, so that they can have a good time with our daughter while the parents are suffering. By following our tradition, Evgeniya and I jumped into the water (from the pier) one right after another. I swam normally for the first several hundred feet or so, but then once the course turned towards the waves, I started having serious difficulties. Water got into my mouth and it made me feel like I wanted to vomit. I tried to relax and to wait a bit, held the paddleboard, tried to swim on the back, etc. Eventually, after quite a bit of time, I started swimming.

"That's when my goggles got fogged up and the sun showed up-right in the face. At some point, I realized that I was swimming towards the wrong buoy. Once back on track and after cleaning the goggles, I actually started swimming. It was 10 minutes after the start already… Nevertheless, things improved drastically and I even started to enjoy the swim, started passing people, and finally began to work out. Once going, the swim actually felt on the short side. Upon exiting the water, I saw my wife exiting at the same time. What a coincidence! For me, it meant that I lost at least 5 to 6 minutes on the swim because this was the anticipated difference between us. Indeed, it took me over 45 minutes to finish the swim. Last time in Waco I did it in just under 39 minutes, which is not horribly fast either, but good for me. By the way, the water temperature was 74 degrees, so it was nice and warm.

"Then, there was a bike leg. The bike course was very simple. You basically go 28 miles straight along the road, then turn around and bike back. I checked the wind prior to the race and knew that during the first half of the race that there would be a tailwind so that after the turn, I'd start working hard. Indeed, I made it to the u-turn point in exactly one hour! That's 28 miles per hour. It was super fun! A bit dangerous since some people were still going like 20 mph and the road was shared with cars. At some point, there was a slight downhill from a bridge and I ran out of gears at the speed of 35 mph. After the u-turn, things slowed down quite a bit. I hit 20 mph maybe several times, it was more like 16-18 mph all the way back. I finished the bike part in a very positive mood with a time of 2h 36 min, which is a good time for me. Then the run started.

"Initially, I was hoping for around 1 h 40+ minutes for the run. I did 1:44 on my previous race in Waco and it was really hilly up there, so I wanted to be about the same or a bit faster. However, after a couple of miles at my desired pace, I started to overheat. Legs were fine, breathing was fine, but my body was telling me to slow down. That's when I realized that I came to this race to have fun and just started jogging without pushing myself too hard. There were three laps and the route was not very pleasant, many turns, two-way traffic in some narrow places, some parts were unpaved. And did I tell you that it was hot? Especially after snow in Colorado! I finished with a time of just under 1:52, which is still decent, but I wanted more 🙂

"The good thing is that since I was unable to push too hard on the run, I recovered very quickly and I was basically ready to run the next day. After the finish, there was a food tent, where I spent the next hour continuously eating and drinking. Evgeniya finished only 22 minutes behind me, so she joined the feast. Actually, my target goal was a 30 minutes difference. The most fierce competition is always within a family 🙂 Nevertheless, we are both happy that this long pending race is over! The above photo picture was taken after the race once we picked our bikes from the transition area."
Dave Ratcliff, Open Range Gravel Race
Location: Pratt, Kansas
Race details: 200 km gravel bike racing
"Gravel racing is a relatively new phenomenon that has surged in popularity because it allows long, open races with relatively little interference from cars and speeding traffic.  There are no categories, winning is sometimes not as important as finishing, and everyone hangs around and drinks a few beers afterwards.  Basically, it is a much more relaxed way to ride and race your bike.  The popularity of gravel racing has even inspired a whole new generation of bikes designed to be light but can take on the rough roads with wider tires and beefier frames.  And everyone lines up at the start with everyone else.  That means the guy lining up next to you might be an ex-UCI pro (Tour de France riders) or the current reigning US road race national champion Greg Daniels, which it was!  Gravel roads are the great equalizer and vary from wide open and manicured to jeep roads to nearly nonexistent.  Bike handling skills can be just as important as fitness.  In fact, even though Greg is an amazingly strong rider he only managed 8th place!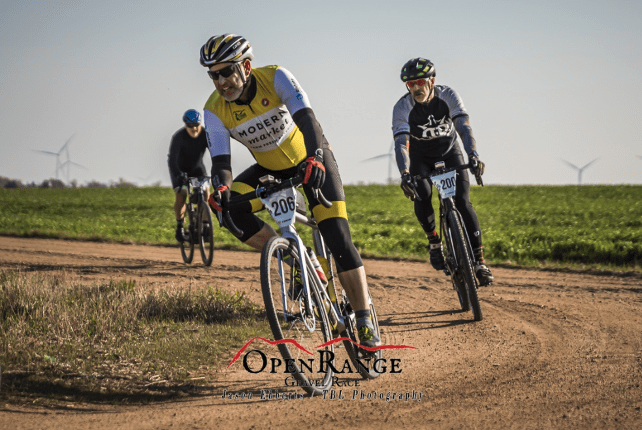 "You may think that a gravel race in the middle of Kansas would be just one flat planted field after another, but in fact, it was a beautiful place with large canyons followed by wide open spaces.  Deep, sandy, leg-draining roads, cool temps, and breezy conditions defined the day.  In addition, a local rancher allowed access to his property and we spent 50 miles of the race on a private ranch with some of the roughest, cow-damaged, teeth chattering 'roads' that I have ever ridden on my gravel bike.  There were even six creek crossings that you had to descend and then ride out of if you didn't get stuck in the mud at the bottom.  Heck, some of the roads weren't roads at all but just the grass mowed down to make a path.  A true test of endurance both mentally and physically.


"Overall, I had a great day on the bike.  I finished in 8th place in the 'old guy' category of 50+ and 30th overall out of about 300 plus riders.  It took 8 hours and 2 minutes and nearly three weeks to recover enough to start feeling normal again.  It was really inspiring to see people push through the mental and physical limits and I'm looking forward to my next race, the 100-mile Robidoux Quick and Dirty in Nebraska."
Garrett Fowler, Ironman Coeur d'Alene
Location: Coeur D'Alene, Idaho
Race details: triathlon, swim 2.4 miles, bike 112 miles, run 26.2 miles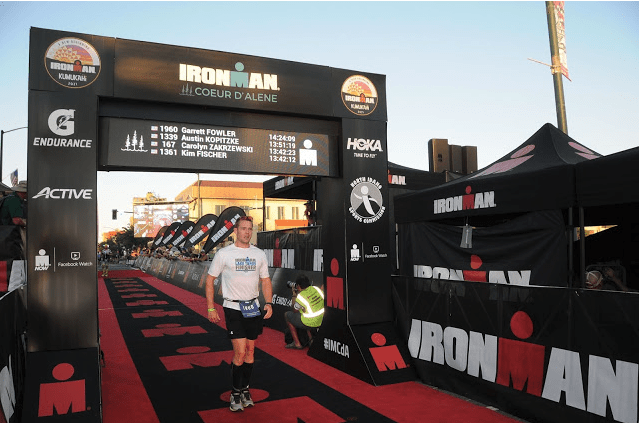 "1682 days after I fell and broke 15 bones, I completed an Ironman again. This was a year after I had originally intended to make my "come back", but well, there was this thing over the last 18 months that postponed pretty much every group event across the globe. It was the longest Ironman I've done. It was the hardest Ironman I've done. It was the eighth Iron distance triathlon for me. And, it was the last Ironman for me.

"CdA has a reputation for being incredibly scenic (it was) and cool (it was not). Average high on race day is 76'F, though starting about 10 days before the race, my friends and I watched as the forecast rose. As of a couple days before the race, the forecast stabilized, predicting a high of 100'F.

"It was 91'F when I arrived in CdA, two days before the race, and the heat felt oppressive compared to the 51'F I had left the day before in Breckenridge. When I was training for the Leadville 100 in 2016, one of the things I had read was that training in heat helps with altitude adaptation. I hoped the reverse was also true.

Lets pretend this is an athletic post coming out of the water.

"My race strategy was pretty simple: cruise the swim, go easy on the bike, and just see how far I could make it on the run. On race morning, temperature was already in the 70s before the 5:30am race start. As we stood on the lake shore waiting for the gun, I kept my wetsuit down around my waist, willing my body to stay cool. Entering the ~67'F water was welcomed. I had switched to a sleeveless wetsuit the days before the race, and that had absolutely been the right call. I exited the 2.4 mile swim in 69 minutes (about 10 minutes slower than prior Ironmans), but my body temperature was cool and collected.


"My modus operandi on the bike was to keep my heart rate around 140 (about 25 bpm lower than I normally would race at) to try to limit overheating. Luckily, I live at 10,000 ft, so was still able to push decent power (~180-190 watts while moving, 164 average when including stoppage) at a low heart rate. I've never been great in the heat (just ask those who've biked behind me in hot weather….there's a collateral sweat mist trailing me), so I was focused on trying to stay cool. Temperatures quickly rose, and by about halfway through the bike lake-side temperatures were flirting with 100'F and temperature in the highlands was 106'F. Again, committed to staying cool, I kept my heart rate in check, and stopped every ~15-20 miles to take off my helmet and pour water over my head. I finished the ride feeling relatively fresh and hydrated. The 112 miles had taken me 7 hours and 5 minutes (about 60 to 90 minutes longer than previous Ironmans).

Note that heart rate data had periods of intermittency in the first 3 hours (my heart rate wasn't really 80 bpm).

"I started the "run" by walking the first mile to assess how I was feeling. After confirming the feet were doing ok, I started executing to plan: keep my heart rate lower (this time about 150 bpm, corresponding to ~10 min/mile pace). The run course is three loops, with about half of that shaded, and half in full sun. Feeling strong, I started running with another athlete from mile 3 to mile 8 at a faster pace, dropping down to as fast as an 8 minute mile. That was a mistake. My heart rate gradually rose to 167 over those five to six miles, and shortly after I started cramping. From mile 10 to 16, I pampered the hamstrings, alternating between jogging and walking.

This picture pretty much tells you all you need to know about what it feels like to run in 100'F weather.

"The pain started around mile 16. Sixteen miles was longer than I'd run since my accident. My longest training run in the eight weeks before had been 11 miles (not your typical pre-Iron training plan), and my longest ever since my fall was 15 miles. But my goal had been to preserve my feet and ankles, and I could comfortably run 10-12 miles without pain. By mile 18 tears were welling in my eyes. The sort of tears you get when accidentally hit your shin against a chair leg or hitting your head against a cabinet. It was at that point that I decided this was the last one. I was going to finish. I was going to come back. I could bear the pain one more time – but I wasn't going to do this again.

It didn't get any cooler.

"I don't remember much else about the last 8 miles other than the pain. Coming down the finishing chute I was conflicted between savoring the moment (an Ironman finish is like nothing else – hundreds of people lined on either side of the chute cheering) and just finishing and being done with it. In the end I hobbled a half-jog for the last 100 feet so at least I would "run" across the line. At the finish-line, someone had set up a temperature probe to report the pavement temperature. The pavement was 123'F as I crossed.

"Fourteen hours and 24 minutes was three and a half hours slower than my next slowest Ironman. Between the feet and the heat, this race wasn't ever going to be about performance. Had it not been for the heat, I think I could've taken over an hour off my bike time, though the run is anyone's guess. However, it would turn out that taking the bike easy likely got me through the race.

Post-race thera-gunning with my friend Aaron and his mother.

"Crossing the finish-line wasn't the end of the race for me. About an hour after finishing I was unable to rehydrate, vomiting anything I tried to drink. Luckily, my friends had the whereabouts to not drop me at my Airbnb but instead bring me to the ER. I was diagnosed with rhabdomyolysis and severe dehydration. Within minutes of popping in an IV, I started feeling much better. However, I then got to spend the next two days in the hospital as they flushed my kidneys of toxins. The fluids I had been drinking for the second half of the marathon just stayed in my gut and were not absorbed, then upon finishing, I vomited those fluids back up without absorbing.

My post-race bedroom in the Coeur d'Alene hospital. The nurses said I was the first patient they'd ever had with zero medications. Just a constant IV drip of saline.

"Nearly 30% of the racers who started the race did not finish (DNF). Ironman CdA this year had the second highest DNF rate in the 30+ year history of Ironman. In speaking to the nurses at the hospital, they relayed that they had never had so many admissions on the day of the Ironman (CdA is one of the longest running Ironman races). Moreover, they commented that this was the first time they had ever intubated Ironman athletes.

"If this was going to be my last Ironman, at least it was memorable. Even without my two-day tour of the Coeur d'Alene medical facilities, this was going to be the last. The run was too painful and not something I am keen to put myself through again. In training, I established that I was able to build to comfortably run the half-marathon length without pain in my feet and ankles. I plan to continue racing half-ironman races, but I think June was the last time my feet will ever run/walk me 26 miles in a day. It's a bit odd knowing when a chapter has come to an end, but also there is solace in knowing that it is my choice to close that chapter. The fall and my broken bones did not end my Iron career. I did."

Nearly five years between pictures