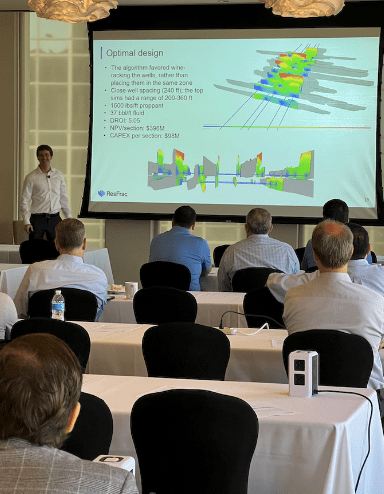 Last week we held our Fourth Annual ResFrac Symposium. The premise of the event is to bring together ResFrac users to share use cases, best practices, and general developments in the industry. 
This year was our biggest yet, with nearly 100 people joining either in-person or online throughout the day-long event, representing 26 different oil, gas, and geothermal operating companies, seven universities, and several service company collaborators.
Mark started the day with a review of the past year and the features coming in the next 12 months, including the most powerful capability we've released in the last year: automated optimization. If you didn't catch it previously, Mark also presented the optimization workflow at Office Hours last month.
After the first hour of ResFrac speaking, our customers took over for the rest of the day. What I am struck with each and every year at this event is how creative, innovative, and brilliant our users are. Six operators presented case studies spanning a broad range of applications. Some focused on showcasing the modeling results, like an optimization of the HFTS 2 data set (SPE 3723620) or evaluating ResFrac predictivity against six months of historical data (spoiler: we did good). The other case studies were tactical in nature, with examples of calibrating proppant transport to the importance of calibrated stress profiles to the incorporation and calibration to advanced diagnostics like injection tracers and geochemistry (SPE 3724091 and SPE 3724108). 
It's impossible to pick a highlight for the day; however, our post-lunch panelists shared insights on collaboration that are valuable to all in the industry. Mark moderated a discussion between Trey Lowe (CTO, Devon Energy), Rob Fast (CTO, Hess Corporation), and Greg Leveille (Retired CTO, ConocoPhillips) on how collaborative efforts across disciplines, teams, and companies can symbiotically address the challenges our industry faces. Some key takeaways that we noted:
Generating ideas is relatively easy. Implementation and adoption is far harder. Efforts to share change management success strategies are important.

Partnerships with venture capitalists have proven advantageous for discovering and collaborating with start-up companies (ResFrac can vouch for this – our partner, Altira Group, has strengthened our relationships with operators and particularly early on, was a super valuable credibility attestation). 

Automation is foundational for breakthrough improvements because automation allows for computer optimization, and allows people to do more with less.

Future innovation must be multidisciplinary. Some of the largest gains observed in their 

organizations in recent years have been multidisciplinary.

Actively cultivate teams that create 'pockets of innovation.'

Book recommendations: Team of Teams, Crossing the Chasm, Give and Take, and Moonshot.
So what will we be talking about next year? Some hints that Mark dropped in our forward-looking preview:
Integration of physics-driven (ResFrac) simulations and data-driven modeling

Fracture reorientation (horizontal fractures)

Augmentation of optimization capabilities (field development planning options), and

Post-processing and UX improvement.
Finally, if in need of a laugh at my expense, I welcome you to share in my deep sorrow as the fire alarm went off right as I was introducing our executive panel: